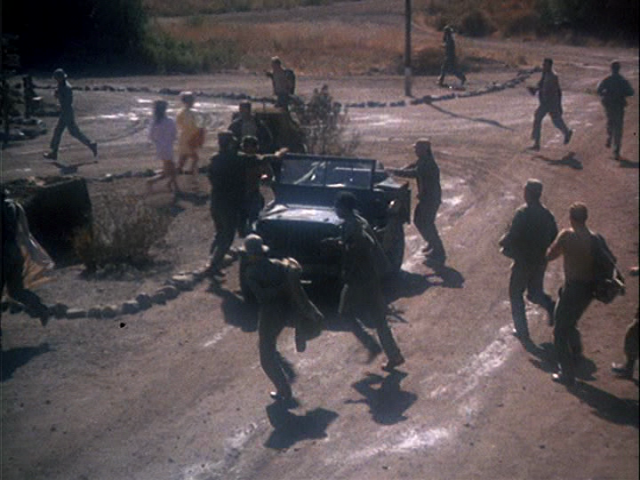 The  loudspeaker calls all personnel to the OR. Arial shots of soldiers in fatigues racing through camp, some holding their hats as they approach helicopters. Nurses running out of the shower tent, with dripping hair and skimpy robes. These scenes are part of the visual shorthand which, over the next 11 years, will allow M*A*S*H to fit so much story into each half-hour episode. This is only the third episode, and already the show's creators are using many of the elements which will become familiar to the audience. From now on, when we see an arial shot of soldiers running we will know that the wounded are on their way. And we know that shortly, we will see dripping women bursting out of the showers. Because apparently every single time the wounded are brought in from the front, all of the nurses have all just decided to shower together.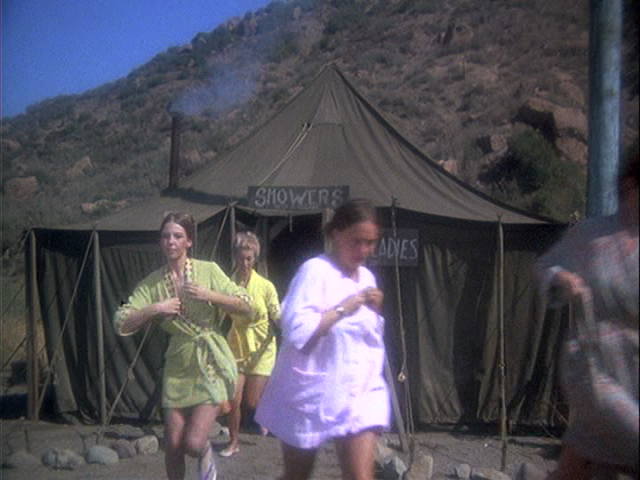 Along with the visuals, this show uses incidental music to build a rich experience for the audience. The little orchestral swells, the snippets of the show's main theme in varying musical styles lead us in and out of each scene in classic 1970s sitcom fashion. The attention to this audio detail in the production of  M*A*S*H speaks volumes about the care that went into the making of this program. In the long run, it will pay off for the show — over future seasons the audience will understand context and especially subtext just by listening to the audio cues.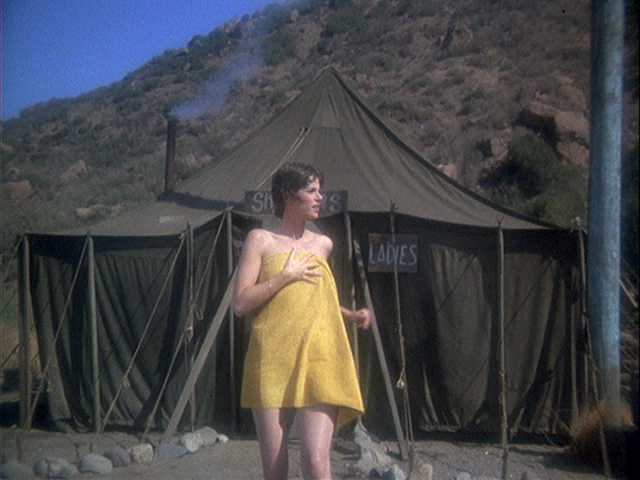 In this particular episode, after the rush to the OR, one last woman emerges from the showers, wet and wrapped in a towel. She barrels right into surgeons Captain Benjamin Franklin "Hawkeye" Pierce and Captain "Trapper" John McIntyre.  There is a brief (and frankly pretty uncomfortable) scene where the two men — each holding on to one of Cutler's arms — leer at her, chatting her up while she struggles to get away. In the end Hawkeye is left holding her towel while the canned laughter erupts. Because it's supposed to be funny.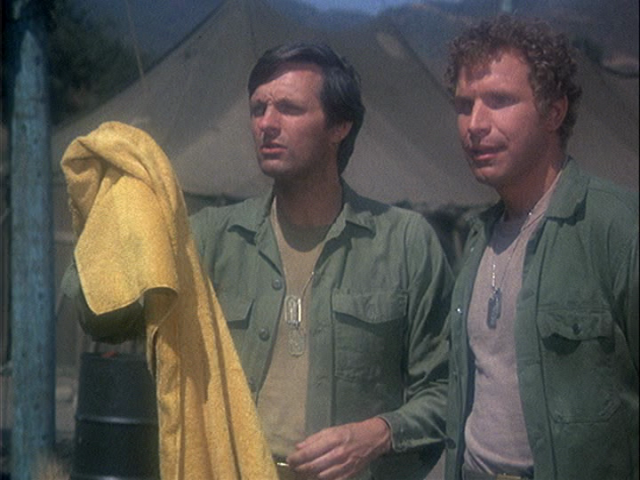 This episode introduces a few major tropes which we'll see over and over again over the next 11 seasons. One is our doctors fighting for the attention of a woman. This is generally executed with little or no attention given to how the woman actually feels about the situation. Occasionally she is briefly depicted as flattered or amused, but generally her attitude is completely irrelevant. Head nurse Major Margaret "Hot Lips" Houlihan is never pleased when such situations arise, and she exercises her control over the nursing staff to eradicate the relationships she sees as problematic. This OR scene shows us that this nurse is working with Hawkeye, and during his surgery he continues with the banter, we see her eyes sparkling over her mask – she's coquettish and clearly enjoying the flirtation.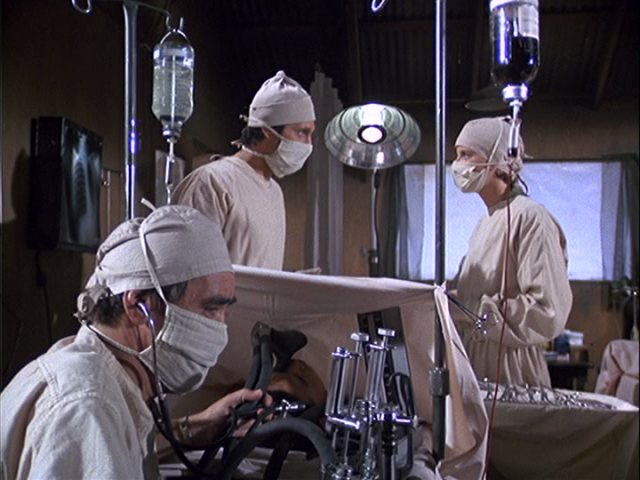 After surgery, Hawkeye and Trapper offer each other lame excuses of errands they need to run, and they go their separate ways. Immediately thereafter, we see each of the doctors separately tearing through the camp, Hawkeye stealing a pair of stockings from a clothes line, Trapper pulling marigolds out of the ground, seconds after camp buffoon Major Frank Burns has just planted them. This sequence is beautifully edited: from Hawkeye ducking under the clothesline to Frank coming out of the swamp with a watering can in his hand and just looking where the marigolds aren't. There's a lot of storytelling going on here, and it's very cleanly done. This episode could be inserted anywhere into the first 4 or 5 seasons and it would fit beautifully. Though the first-time audience back in 1971 was just getting to know these characters and their patterns of behavior, this episode treats so much of their development as already given: Frank is the butt of all of the jokes. He hasn't even spoken yet and we can see that, without question.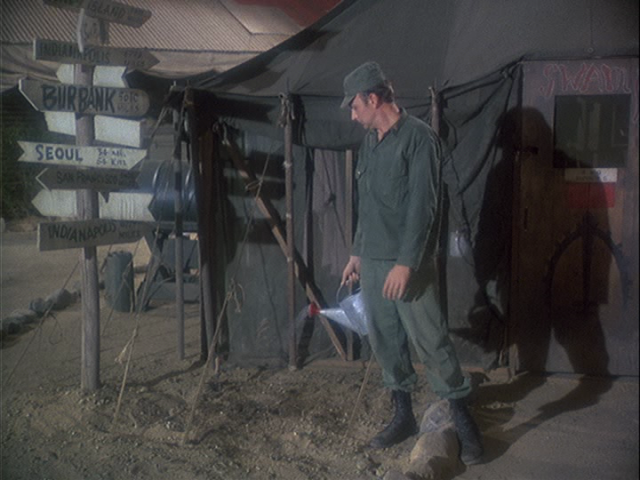 Meanwhile, Trapper and Hawkeye confront each other in front of Nurse Cutler's tent, and come to the conclusion that they will share her. It's been established that Trapper is married, but things like fidelity and monogamy don't seem to matter much here. This is another theme that will become a recurring part of the M*A*S*H reality: whatever you do during wartime is beyond reproach. With all of the hardships and sacrifice that accompany the real dangers of life in a war zone comes a kind of carte blanche to misbehave. Booze and naps and steak and women are viewed through the same filter: they are desirable objects that are difficult to come by in a war zone, and therefore must be enjoyed as heartily as possible on the rare occasions they are available.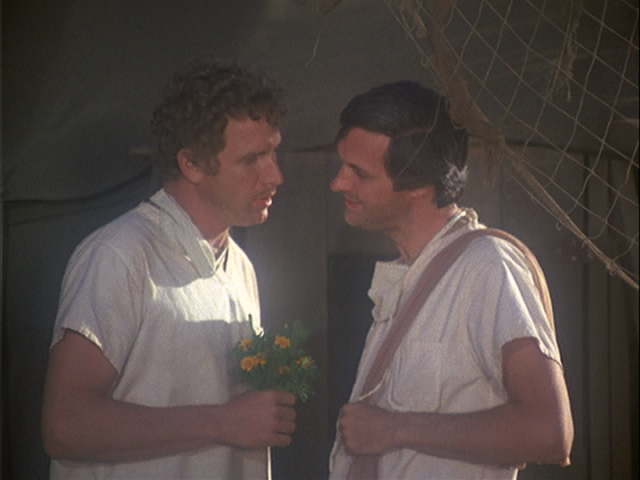 With that in mind, our doctors agree to share Nurse Cutler, only to find her packing to leave. Apparently Hot Lips has had her transferred to another unit in order to to punish Hawkeye and Trapper. Again, there's this discomfiting realization that the women here are just pawns. Over and over during the course of this show there will be scenes like we saw in the pilot episode:  Hawkeye making trouble but evading repercussion because he manages to impress some general or another because of his skills in the OR. But we never hear of a nurse so skilled that anyone cares to keep her around — we only hear of a nurse so leggy (or blonde or easy) that suddenly it's good for company morale to keep her on staff. A scant few recurring roles are created for the nursing staff in later seasons, but for the most part,  the nurses are really just devices.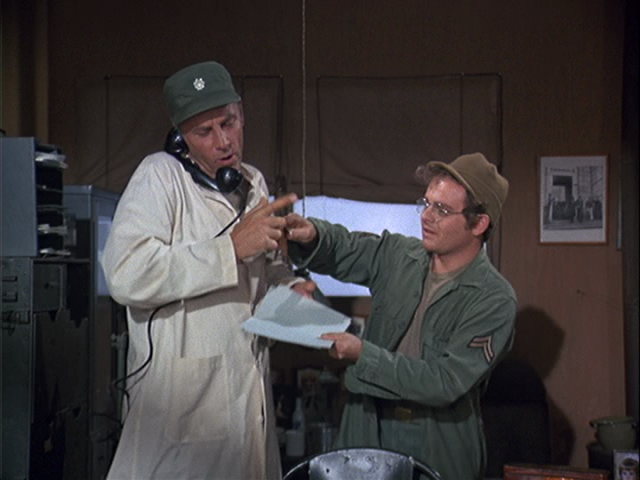 Cut to commanding officer Lt. Col. Henry Blake's office, where he and his assistant "Radar" O'Reilly are engaging in a vaudevillian bit which reinforces some ideas already established (namely that Henry is a clueless boob and Radar is really the one running the outfit). Scenes like this one will appear regularly over the course of the series, serving not only as a comedic moment but often providing the obstacle and/or solution to the episode's storyline. In this episode, the obstacle/solution arrives with a phone call from General Barker. Apparently Barker is trying to organize a boxing tournament among the M*A*S*H units. Henry laments because his unit, the 4077 M*A*S*H unit, is famously unruly and lazy. At this moment Hawkeye and Trapper come barging in to complain about the fact that Hot Lips has sent away the object of their affection. And here comes another major trope: somehow, when a dangerous or ridiculous or otherwise particular task is at hand, it must be one of the two top surgeons to take it on. And thus we get Trapper John in the ring. If he can win the boxing match, he gets his nurse back.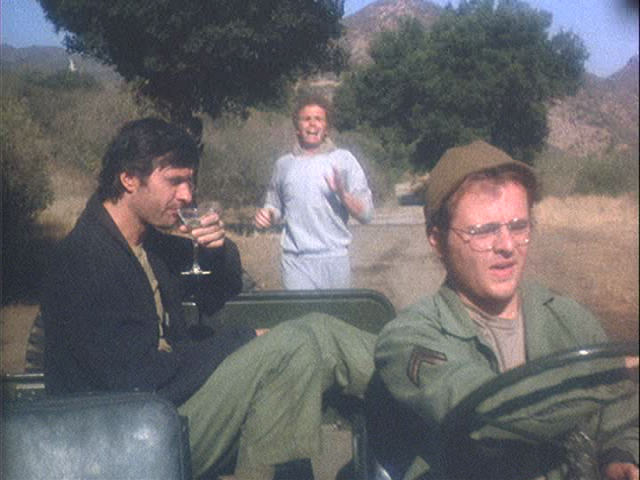 More visual shorthand is established during Trapper's training sequence. There's Radar, always there to assist the doctors in whatever harebrained schemes they've concocted. There's Hawkeye with his ever-present Martini and his blue sweater, that single out-of-uniform item to demonstrate his lackadaisical attitude towards the Army (later that sweater is replaced with a red bathrobe, but thus far all we've seen is the sweater). There may not be a lot of plot in this episode, but they manage to squeeze a whole lot of exposition into these scenes. We're in episode 3 and just getting to know the reality that the M*A*S*H universe will become. It's being fleshed out before our very eyes. It's compact and precise. And possibly what made this show (which frankly in retrospect, is not always all that interesting or likable) last so long and become such a major part of our cultural climate.
Back to our not all that interesting or likable episode plot details: Ugly John, the inexplicably Australian anesthesiologist, suggests Trapper cheat by soaking his gloves with ether and forcing his opponent to inhale the fumes. Thus, Trapper manages to anesthetize his oversized opponent, who tumbles out of the ring, crushing Frank and Margaret. Hooray! There is an amazing swelling musical segue here, while Hot Lips screams with indignation. And in the end, Nurse Cutler comes back. She's so impressed with Trapper's bravery that she promises to tend to his black eye, much to Hawkeye's chagrin.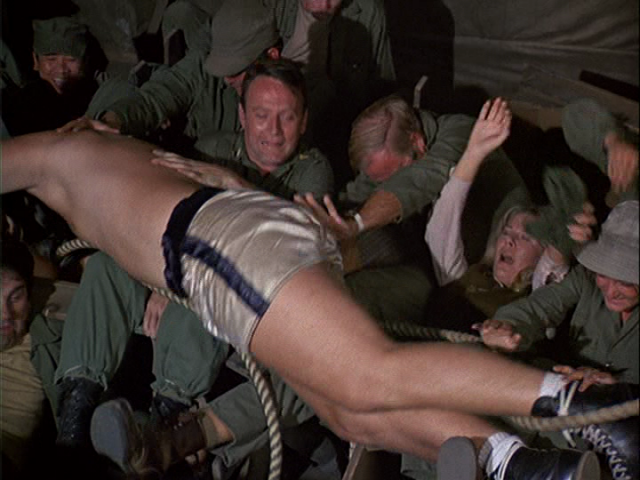 Truth be told, there's not much to this episode, except to establish without a doubt that women are commodities, like silk stockings or steaks. It's impressive to me, though, how by episode 3 out of a total of 251, there are so many strong elements firmly in place. The relationships between the characters are crystal clear. The social climate of the camp is well defined, and basic episodes like this one — episodes that aren't trying to be socially important by relaying some larger message — follow a simple formula that we will see repeated quite successfully, again and again.
M*A*S*H Revisited  explores the past and the present — personal and societal — using the hit TV show as a frame. I will continue to pontificate on how much (and often, how little) has changed as I go episode-by-episode through all 11 seasons. Unless I get tired of it. You can read the previous articles in this series here.