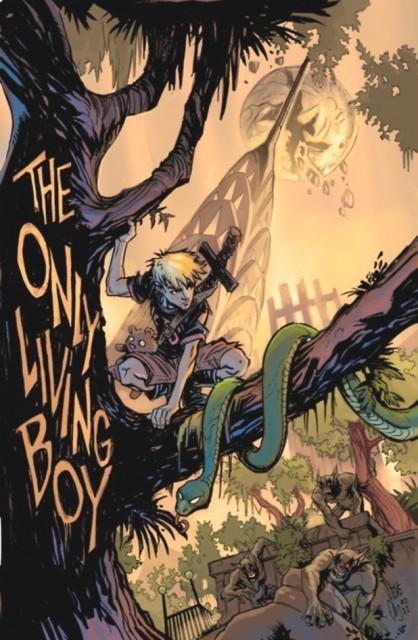 The Only Living Boy #1 (Bottled Lightning Comics)
The Only Living Boy is an entrancing ballad of a little boy lost, an epic fantasy with an intimate focus.  It conjures a fully-realized environment of mysterious ruins and gladiators and monsters that evokes 'Planet Hulk' and 'Planet Of The Apes' equally; a bountiful feast of imagination that's both science fiction and fairy tale.
The story follows a young runaway who wakes up one morning in a world not his own, and faces untold dangers as he picks his way across mysterious lands.  Insect women, gargoyle-bat creatures, an evil doctor, medieval dungeons, hooded ghouls, dragons – all these things (and far more) crop up in the course of the first issue, 48 pages that fly by in a blur of excitement and emotion and plot devices being put into motion.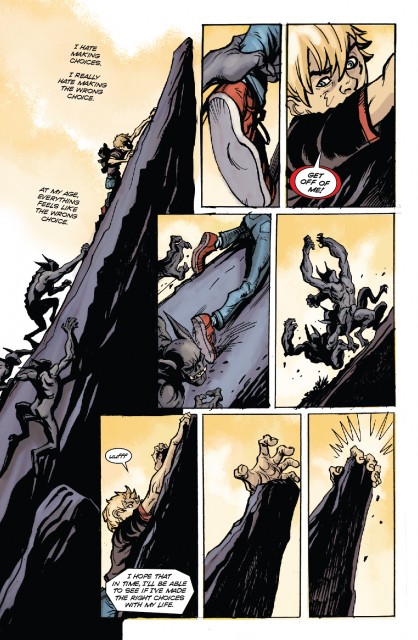 David Gallaher dispenses his text in carefully measured doses, giving form to the series of fanciful images, providing each character with a distinct voice and personality.  Steve Ellis is doing possibly the finest artwork of his career here, working in a lush and expressive style that echoes Mike Ploog, Tom Yeates, and Michael Wm. Kaluta, but remains distinctly his own.
A quick note on suggested readership: The content is entirely suitable for young readers, but I'd hesitate to tag it with the "all-ages" label – there's a serious depth and maturity to the storytelling, and primal emotions at the core of the concept.  Being lost and alone is one of childhood's great fears, and each child deals with it at a different time and in a different way.  And while the story moves quickly past that initial set-up, I'd recommend parents look it over and decide for themselves if their kids are ready for it.
On the basis of this first issue, The Only Living Boy has the makings of a classic.  It weaves together familiar elements in unexpected and alluring ways, and perfectly captures the title character's sense of wonder as a world of strange adventures unfolds before him.
The Only Living Boy was initially funded through Kickstarter, and issue #1 is now available for download on Comixology.  A print edition will hit comic shops later this year.  Issue #2 will be available in January, 2013.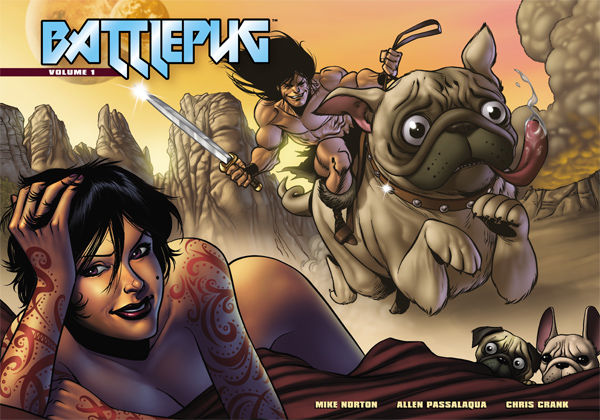 Battlepug Volume 1 (Dark Horse Comics)
Battlepug is a whole different type of fantasy: a high-spirited riff on sword-and-sorcery books, Frank Frazetta imagery, and old Heavy Metal Magazines.  It's a timeless tale of a solitary warrior, his canine steed, and their encounters with thieves, scoundrels, madmen, and giant anthropomorphized animal evildoers.  The sultry maiden on the cover narrates the book, recounting legends of long-ago lands, swordfights, and slobber.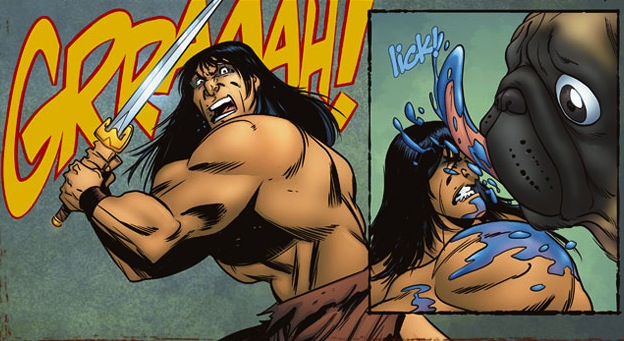 Mike Norton's writing welds together absurdity and dashing adventure, his art equally adept at comedy, evocative facial expressions, and wild action sequences.  It's packed with absurd characters and accomplished caricatures, thrown together in endlessly surprising combinations.  It may seem at first glance like a simple one-joke comic, but it proves to be a masterful medley of plot twists, excitement, and hysterical ideas.
Battlepug Vol. 1 is now available in all good comic shops.  The story continues on the Battlepug website, where new pages are released (almost) every week.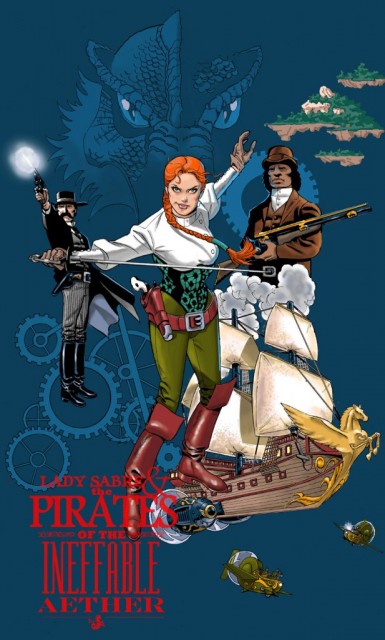 Lady Sabre & The Pirates Of The Ineffable Aether (self-published, online)
I'm not ordinarily drawn to long-form online comics.  I lose track of what's happening when I'm only getting a page or two at a time, so when I find something I like, I tend to check back every couple months and try to catch up on the story in big chunks.
Anyhow, that's my usual approach.  But Lady Sabre, a webcomic by the team of Greg Rucka and Rick Burchett, is so great that I can't really show that degree of restraint.  It's one of the best comics of the past few years, in any format, in any genre…  Although now that I think about describing this comic, it might be more fitting to rephrase that: it's one of the best comics, in any format, in MANY genres.  This is a comic that gleefully plays mix-and-match with styles and tropes, and can't be pinned down with a single simple classification.  It's a rollicking steampunk fantasy western mish-mosh: a crazed story of a skyfaring pirate ship, an intergalactic evil conspiracy, a cowboy marshal and his deputy, and a buccaneering redhead heroine (the Lady Sabre of the title).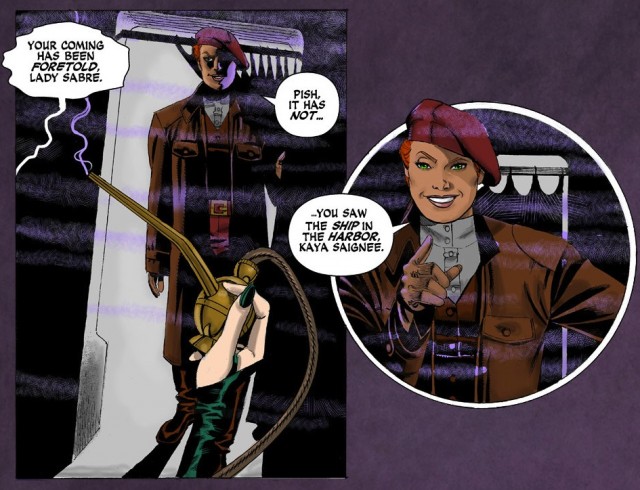 Rucka and Burchett are operating in perfect sync here.  They play to each other's strengths, and combine to create a rich, deeply textured universe.  Plumes of smoke rise from pistols, clockwork men creak, ships sail through fields of stars, fabric rustles in the wind; objects have weight and mass, characters speak in their own unique voices.  It's a swirl of mystery, machinations, and bizarre background elements, harkening back to the incredibly dense universes of 80s indie comics.  (I'm thinking of comics like Nexus, Maze Agency, and American Flagg.  Books that created believably cluttered environments in the process of telling their stories.)  Pages are added on Mondays and Thursdays, and I check back religiously to read each new installment.
In short, there's so much here to like that I'd recommend it to pretty much anyone – it's a beautifully crafted comic, seriously entertaining, chock-full of fine detail and screwball swashbuckling thrills.
Lady Sabre And The Pirates Of The Ineffable Aether is available for your reading pleasure at ineffableaether.com.