FOR IMMEDIATE RELEASE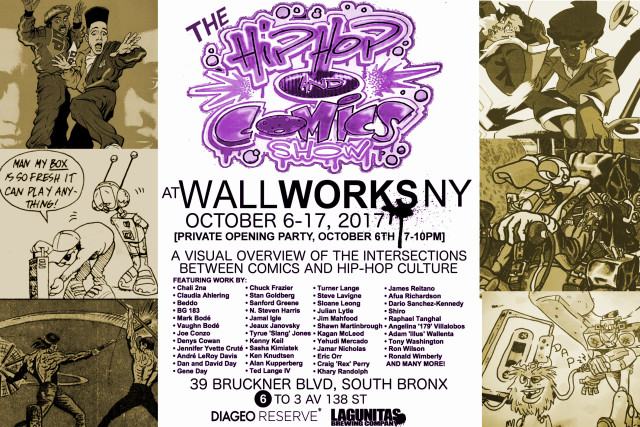 THE CONNECTIONS BETWEEN COMICS AND HIP-HOP CULTURE ON DISPLAY AT 'THE HIP-HOP AND COMICS SHOW', A WIDE-RANGING VISUAL RETROSPECTIVE IN THE SOUTH BRONX
a first-of-its-kind gallery show showcasing five decades of art and artifacts
from over forty-five top artists
New York, NY (October 4, 2017) – From October 6th through October 17th, Wallworks Gallery in the South Bronx will play host to 'The Hip-Hop And Comics Show', a special exhibition of work that illustrates the long-standing and deep-seeded connections between Hip-Hop and Comics cultures, and features over 100 individual pieces: original comic page art and album cover illustrations, animation cels and key art, limited-edition exclusive prints, one-of-a-kind paintings, sketches, drawings, and other unique works.
From an unfinished strip by legendary comic artist Vaughn Bodé to concept sketches for Eric Orr's Rappin' Max Robot (the first-ever Hip-Hop comic), from one-of-a-kind prints by Jurassic 5 MC and visual artist Chali 2na to original art from Marvel's 1991 Kid 'N Play comic book, from paintings by graffiti icons Shiro and John 'Crash' Matos to original drawings for MF Doom and Madlib's seminal All Caps video, this show offers a expansive and thrilling look at how comics, animation, and related forms have inspired and influenced Hip-Hop culture, and how the elements of Hip-Hop have, in turn, crossed over into the worlds of comics and popular media. And as the initial exhibition to offer a historical perspective on this subject, it is fitting and appropriate that the show will take place in the South Bronx (the ancestral home of Hip-Hop culture), and opens the weekend of the east coast's largest pop culture expo, New York Comic-Con.
Artists whose work appears in the show include Chali 2na (of Jurassic 5), Claudia Ahlering, Beddo, BG 183, Mark Bodé, Vaughn Bodé, Joe Conzo, Jennifer Yvette Cruté, André LeRoy Davis, Dan and David Day, Gene Day, Chuck Frazier, Stan Goldberg, Sanford Greene, N. Steven Harris, Jamal Igle, Jeaux Janovsky, Tyrue 'Slang' Jones, Kenny Keil, Sasha Kimiatek, Ken Knudtsen, Alan Kupperberg, Ted Lange IV, Turner Lange, Steve Lavigne, Sloane Leong, Julian Lytle, Jim Mahfood, Shawn Martinbrough, Kagan McLeod, Yehudi Mercado, Jamar Nicholas, Eric Orr, Craig 'Rex' Perry, Khary Randolph, James Reitano, Afua Richardson, John Romita Jr., Shiro, Raphael Tanghal, Angelina '179' Villalobos, Adam 'Illus' Wallenta, Tony Washington, Ron Wilson, Ronald Wimberly, and many others. The show is curated by pop culture journalist and historian Patrick A. Reed, whose 'Hip-Hop & Comics: Cultures Combining' programs have appeared at conventions, festivals, and universities around the country.
The exhibition will kick off with a private opening on Friday, October 6th, with music from legendary DJs Jazzy Jay and Johnny 'Juice' Rosado and beverages provided by Diageo Reserve and Lagunitas Brewery – members of the general public can RSVP to hiphopandcomicsshow@gmail.com for a chance to attend the reception.
'The Hip-Hop And Comics Show' will run through Tuesday, October 17th, with a closing reception scheduled for that evening. Wallworks Gallery is located at 39 Bruckner Blvd, just off the 3 Ave/138 St stop on the 6 Train. Gallery hours are 11am-6pm, Tuesday through Friday, or by appointment Saturday and Sunday. For updates or inquires on The Hip-Hop And Comics Show, please check www.wallworksny.com, www.depthoffieldmagazine.com, or @DJPatrickAReed/@depthzine on Twitter.