In 1989, DC Comics formed a new imprint for experimental and avant-garde titles. Piranha Press only lasted a few years, but their impact is still being felt today.  They gave a home to creator-owned works, the edgy and unusual, and along the way built a devoted fanbase and gained great critical acclaim.  And then in 1991 and 1994, they released a couple of official, licensed Prince comics under the Piranha Music banner.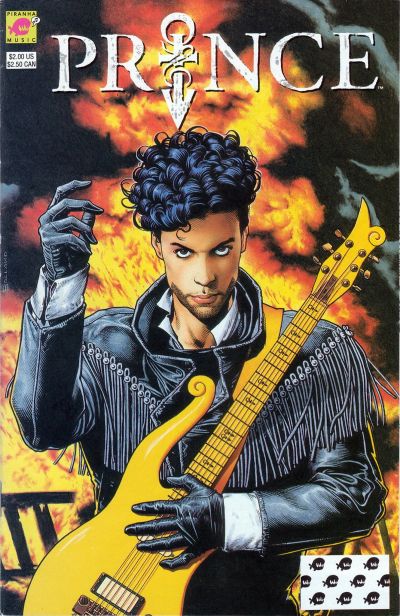 Prince: Alter Ego was written by Dwayne McDuffie, and featured art by Denys Cowan.  Within its pages, Prince spends his time driving a customized motorcycle around, engaging in philosophizing, wistful reminiscing, and sad sultry glances.  And then he breaks up a gang war, goes for a ride on his motorcycle, romances a mysterious woman, and stages a musical battle with a former bandmate for the soul of Minneapolis.  He appears to be a master of martial arts, and repeatedly refers to himself as Batman.
Throughout most of the story, The New Power Generation stand around with instruments, waiting on Prince's orders, and don't seem fully engaged in the plot.  (They're just a backing band, after all.)  They fill up panels, get used as pawns by the evil antagonist, and wait for Prince to stop moping over girls and revving his motor.  Did I mention Prince rides a motorcycle?  Well, he does.
It's sort of a spiritual sequel to Purple Rain, but with metaphysical insanity in place of showstopping musical numbers.  It's a fascinating curiosity, and a truly bizarre addition to the canon of pop comic books.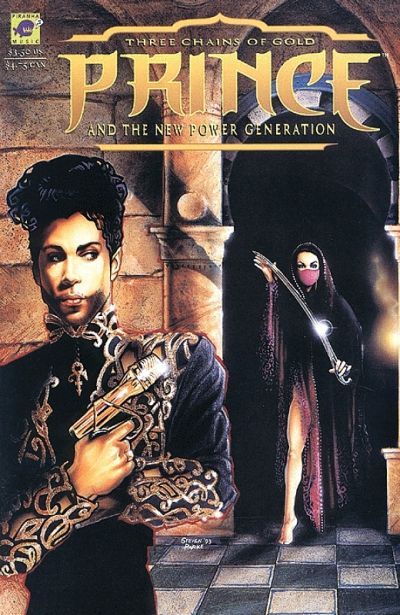 Prince And The New Power Generation: Three Chains Of Gold is something else entirely.  McDuffie returns as the writer, but the romantic brooding of Alter Ego is swapped for all-out swashbuckling insanity.  It begins with a two-page prologue detailing a royal power struggle in a Arabian kingdom, then cuts straight to a scene of The-Artist-Not-Yet-Formerly-Known-As-Prince in concert, performing the last date of a guerilla Middle Eastern tour.  The band grooves, the crowd goes wild, officials step in to put a stop to the forbidden western music, and a lovely princess intervenes, allowing the show to continue…  And from that point, things get really crazy.  The three gold chains of the title are ancient artifacts needed to rule the nation of Erech, and the princess has one of them and knows the location of another.  Romance, scimitar battles, beheadings, and mayhem ensues.
The plot isn't terribly coherent, but it doesn't much matter when there's so many cool things happening.  Prince karate-kicks assassins, produces records, flies around the world in a day, butts heads with meddling paparazzi, wears a fetching black jumpsuit, and generally acts the part of a funky Indiana Jones. And befitting their star billing in the title, this time the New Power Generation contribute quite a bit to the story too: winning an airplane trip in a poker game, shooting firearms, short-circuiting an alarm system, and flying the aforementioned plane when the pilot is injured.  There's some battles, a daring escape, a trip across the desert by camel, and it all wraps up inside an ancient crypt, where Prince walks a tightrope over a pit of spikes and battles the evil mastermind for control of the nation.
David Williams and Deryl Skelton handled the penciling duties for the book, and their styles fit together nicely (assisted by the inking of veteran Josef Rubenstein), creating believable characters and providing good likenesses of the true life Prince and the NPG.  It's a really fun read, a rather inspired mish-mash of archeological silliness and exotic locales.  (And let's note that despite some notable similarities to a certain video-game franchise, it was released two years before Tomb Raider.  Prince was there first, and as ever, funkier.)
Prince: Alter Ego and Prince And The New Power Generation: Three Chains Of Gold were published by DC/Piranha Press in 1991 and 1994, respectively.  Neither one has been reprinted, but both can be found on eBay and through your local comic shop…  It's totally worth the effort, trust me.

All articles in the Pop Music Comics series can be found here.