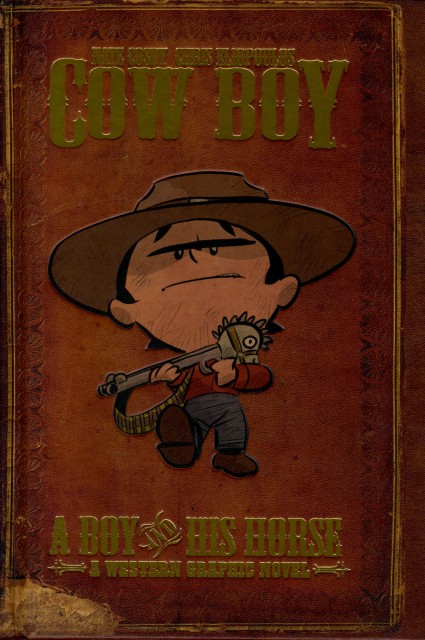 Cow Boy is a new graphic novel from Archaia, and it's a masterful work of poignance, varmint wrangling, and hard-bitten, spur-jangling protagonists.  The title character is Boyd Linney, a ten year-old child with a bandanna, a hat, and a horse.  He's the youngest bounty hunter in the old west, and he has some scores to settle.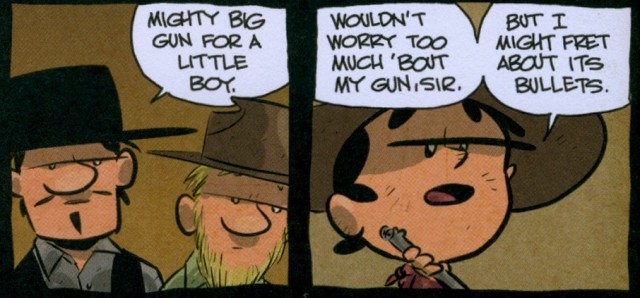 The author, Nate Cosby, spins a moody tale of yesteryear, filled with action, drama, and rich character moments.  Chris Eliopoulos provides the art, and his mix of cartoony character designs and muted colors are a perfect fit for the text.  We follow young Boyd across prairies and through canyons as he pushes on in search of his prey; the wide expanses of the frontier allow room for reflection, and the art and dialogue convey emotion with a scarce few lines.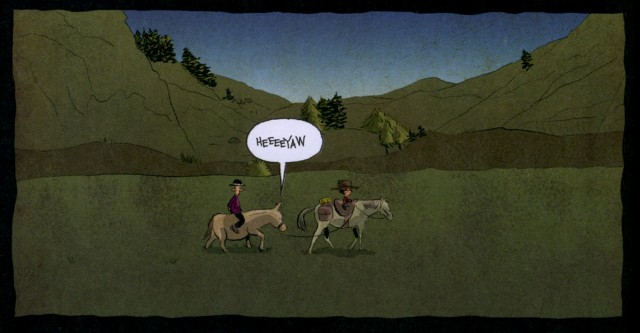 The book itself is a beautifully designed object: a small hardbound volume that's designed to look like an old leather journal, titles stamped in gold across the spine and front cover.  The story is told across five chapters, which are interspersed with brief standalone strips by a variety of indie artists.  These interludes liven the mood and give the sensation of commercial breaks in an old TV matinee, or the short stories scattered through old western comics;  the action pauses, and there's a moment of unrelated craziness before the main narrative resumes.
And while the cover of this book is marked "E for Everyone", I'd mostly recommend it for readers aged eight and up.  While the content is certainly not inappropriate (there's very little violence, and no nudity or sexual themes), there's some emotional beats that could confuse or worry some younger readers.  Young Linney has been turned out into a harsh world, on his own, and his relationships with his family are contentious at best.  The undercurrents of loss and betrayal are never far from the surface.  And in the great western tradition, our hero rides off at the end, alone with his thoughts and regrets.
This is a comic that excels at mixing whimsy and melancholy, and covers the spectrum from rootin' tootin' action sequences to quiet reflection.  It's an exemplary take on the western form; a tall tale of a pint-sized hombre, a sarsaparilla-soaked, tumbleweed tumblin' cowboy yarn.
Cow Boy is published by Archaia Entertainment, and is slated for release in May.